"I love the field of plastic surgery. It allows me to help restore form and function to patients of all ages, helping each to meet their individual goals."

J. Scott Persing, MD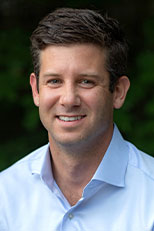 Education
Dr. Persing graduated from Denison University in Ohio and went on to matriculate at the University of Vermont for a Post Baccalaureate Premedical Program. He then received a MPH degree from the Dartmouth Institute for Health Policy and Clinical Practice. Following this, he pursued a medical degree at Loyola University Stritch School of Medicine before completing an integrated residency program in plastic and reconstructive surgery at Yale-New Haven Hospital. He then stayed on at Yale-New Haven Hospital for an additional year of fellowship training in the field of hand and microsurgery.
Credentials
Dr. Persing is certified by the American Board of Plastic Surgery. He is on the teaching faculty of the Lahey Clinic and serves as Clinical Instructor at Maine Medical Center for Tufts University School of Medicine.
Why Plastic Surgery in Portland, Maine?
Dr. Persing is passionate about plastic surgery. As a plastic surgeon, he can help patients of all ages, operating from head to toe, utilizing unique skillsets to restore form and function for each individual patient. The value and well-being provided through this service is immeasurable to him. The Portland area itself provides an ideal practice environment for him. "My wife and I both have family ties to Maine, and living here aligns with our active lifestyle in the backdrop of one of the most beautiful coastlines in the country."
Philosophy of Care
Dr. Persing is detail-oriented and considers patient-centered medicine fundamental to his practice. To him, patient-centered medicine means helping individuals understand that there can be many solutions to a health problem depending on their circumstances and what they view as a successful outcome. "I want to help them get the results that fit their lifestyle and goals." Being meticulous helps him to optimize patient outcomes, ensuring they receive the very best treatment possible.