Distal Radius Fracture
While a distal radius fracture (broken wrist) can vary greatly in its nature and severity, the goal is the same. Treatment must put the broken pieces back into position and prevent them from moving until they are healed.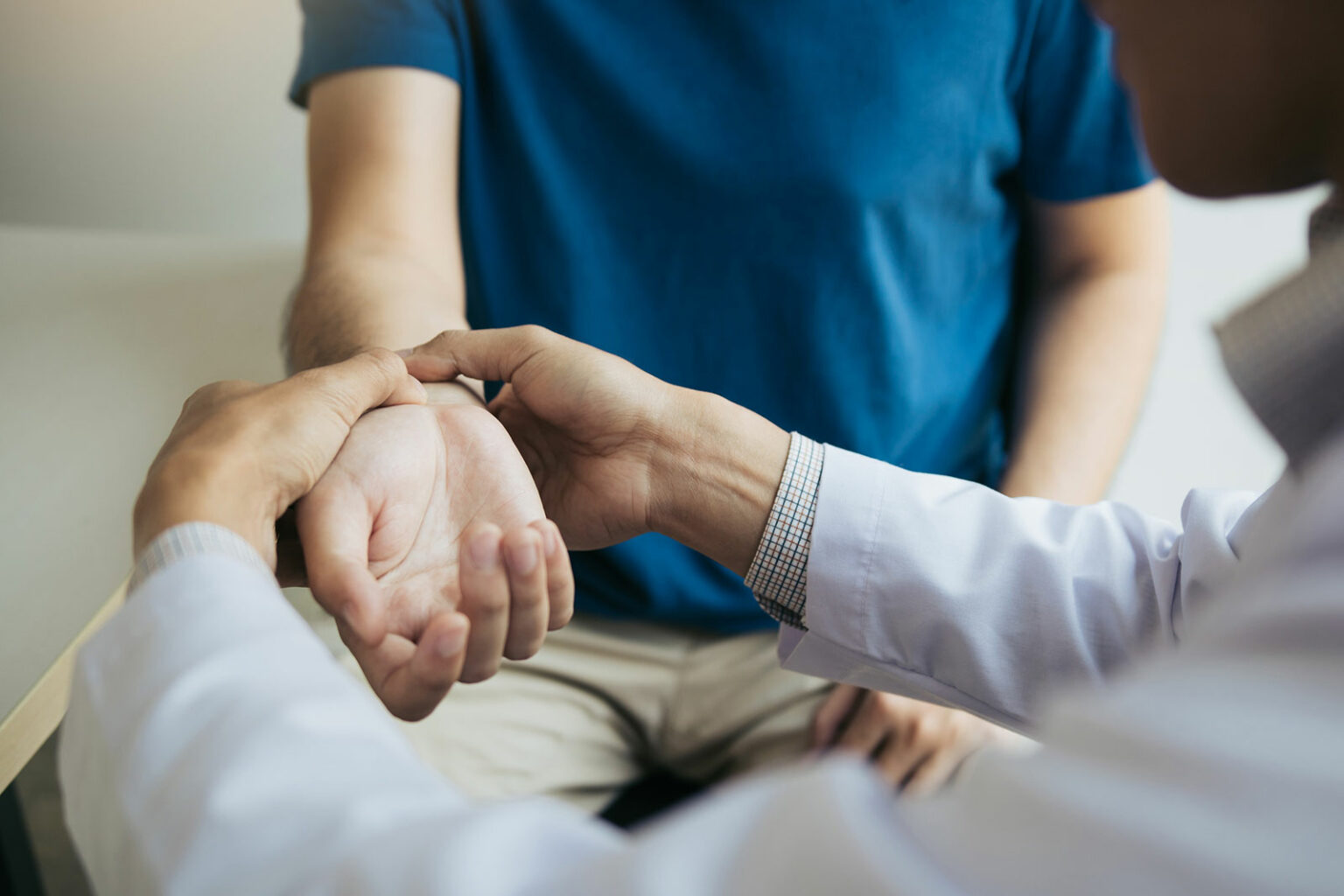 At Plastic + Hand, we offer non-surgical and surgical treatment plans to best address your diagnosis and needs.
WHAT IS A DISTAL RADIUS FRACTURE?

Distal radius fractures are very common, since the radius is the most commonly broken bone in the arm.

Two long bones make up the forearm:

The radius is on the thumb side of the forearm.
The ulna is on the pinky (small finger) side.

A distal radius fracture (broken wrist) occurs when the radius breaks close to the wrist. In most cases, a distal radius fracture occurs about 1 inch from the end of the bone.

Sometimes, the distal radius fracture is paired with a distal ulna fracture (when the ulna bone breaks), but the surgeon will determine if this break requires additional treatment.
WHAT ARE THE CAUSES OF A DISTAL RADIUS FRACTURE?

While the most common cause of a distal radius fracture is a fall onto an outstretched arm, it is a common injury for all ages.

In young people with healthy bones, severe trauma can break a wrist. Distal radius fractures may result from high-energy incidents like a car crash or bike fall.

In older people, a distal radius fracture can happen from a simple fall on the wrist (including from a standing position), especially if they have osteoporosis.

These types of injuries are especially common in Maine during the snowy and icy parts of the year.
WHAT ARE THE SYMPTOMS OF A DISTAL RADIUS FRACTURE?

A distal radius fracture typically causes immediate pain, tenderness, bruising, and swelling. The wrist might also become deformed and hang in an odd or bent way.

If the distal radius fracture is severe, the nerve(s) to the hand can be affected and cause finger numbness. If this numbness presents after this injury, seek immediate medical care to prevent possible permanent nerve damage.
HOW DO YOU DIAGNOSE A DISTAL RADIUS FRACTURE?

After a distal radius fracture, there are two paths to diagnosis:

Through immediate medical attention: Seek urgent care if the injury is extremely painful, the wrist is severely deformed, or the fingers are numb and/or pale.

Through next-day medical attention: See your doctor if the injury is not incredibly painful and the wrist is not deformed. Protect it with a splint and apply ice and elevation until your appointment. In this appointment, your distal radius fracture will be confirmed with an X-ray.

At the Maine Hand Center at Plastic + Hand, we start this process by understanding the severity of this distal radius fracture before discussing the most appropriate treatment options.
WHAT ARE THE DISTAL RADIUS FRACTURE TREATMENT OPTIONS?

Plastic + Hand offers different treatment options depending on the severity of the distal radius fracture, the nature of the fracture, and the patient's unique makeup, like age and activity level.

The goal of distal radius fracture treatment is to put the broken pieces back into position and prevent them from moving until they are healed. This can be done in two paths, depending on what the surgeon feels is most appropriate.

These include:

Non-surgical treatment:

A cast: This may be a good option if the broken bone is in a good position.
Closed reduction: If your broken bone is out of place and limits your arm usage, your doctor can realign the broken bone fragments without surgery.
Splint/cast: Once the bone is aligned properly, a splint or cast can help keep the bones aligned.
Occupational therapy: Our Plastic + Hand occupational therapists are specialized in providing gentle stretching exercises to help improve the motion and function of the injured wrist.
X-rays: Frequent X-rays can show how your fracture is progressing. If the bone(s) become poorly aligned, your surgeon may recommend surgery.
WHAT IS DISTAL RADIUS FRACTURE SURGERY?

If the position of the bone cannot be corrected with a closed reduction, a cast, or other non-surgical methods, the distal radius fracture is at risk of healing with bad alignment, which can result in poor arm function. Often, surgery is the best way to correct the fracture and hold it in place while it heals.

During the distal radius fracture surgery, your surgeon will first mark the surgical area, and you will be placed under general anesthesia. This is all done successfully in the comfort of our accredited outpatient Plastic + Hand Surgery Center located on-site here in Portland, Maine.

Your Plastic + Hand surgeon will make an incision on the wrist over the fracture to access the broken bone(s) while protecting arteries, nerves, and tendons. In this open reduction, the surgeon realigns the broken bone(s) directly through the incision.

Depending on the fracture, the surgeon will determine the best method for holding the realigned bone together in the correct position while it heals.

The full distal radius fracture surgery will take about 30-90 minutes, and you will recover in the recovery room where your progress will be monitored, and most discomfort you'll feel can be controlled with medication. After a few hours, a friend or relative can drive you home.

Nerve blocks are often performed to minimize postoperative pain and improve the patient experience.
WHAT TO EXPECT AFTER DISTAL RADIUS FRACTURE SURGERY

Since distal radius fractures are so varied, there is no one-size-fits-all recovery timeline. While most distal radius fractures take three months to heal, full recovery may take up to one year.

Depending on your surgical procedure, your Plastic + Hand surgeon will provide specific post-op instructions for your recovery, including if you will need follow-up care with our occupational therapists.
HOW MUCH DOES DISTAL RADIUS FRACTURE TREATMENT COST?

You'll discuss your distal radius fracture treatment plan with your Plastic + Hand surgeon. During your initial consultation, your surgeon will evaluate your medical history, your symptoms, and discuss the most appropriate treatments and procedures for your diagnosis.

After this personalized consultation, our scheduling and pre-authorization team will work with you and your insurance company to ensure the procedure is covered and scheduled in a timely manner.
OUR PLASTIC + HAND SURGEONS ARE THE MOST TRUSTED TEAM FOR HAND SURGERY PROCEDURES AND DISTAL RADIUS FRACTURE TREATMENT IN MAINE.
If you're considering hand surgery or non-surgical treatment for your distal radius fracture, our Plastic + Hand team has the most qualified hand surgeons in Maine. Not only have we successfully completed the most reconstructive procedures in the region, but our team is also the only plastic surgery team trusted by Maine Medical Center, Mercy Hospital, and Southern Maine Medical Center.
Plastic + Hand surgeons offer a comprehensive range of advanced procedures and treatments to address various hand conditions. Hand surgery procedures treat traumatic and post-injury problems, carpal tunnel, osteoarthritis, tendonitis, ganglion cysts, and congenital abnormalities.
In many cases, surgery is just the start of recovery, and intensive rehabilitation may be necessary to increase hand strength and function. That's why Plastic + Hand includes occupational therapists as important members of our team to provide treatment for patients with hand injuries.
Each and every patient is unique. It's important to us that we listen to our patients from the outset, so a phone consultation with our Patient Care Coordinator is the first step in determining distal radius fracture treatment is appropriate for you.
Schedule time to talk to us
It's time to discover the results you seek, offered with the respect and compassion you deserve. The first step begins here. Call us at 207-775-3446, or submit this request form, to schedule your consultation with our Patient Care Coordinator to determine whether distal radius fracture treatment is right for you.
Call us at 207-775-3446 to schedule a consult. Questions? Click here.