Nerve Surgery (Compression, Trauma)
Our Plastic + Hand team specializes in nerve surgery and treatment for anatomic abnormalities (like compression) and nerve injuries.
Nerve compression and nerve injury are wide-ranging topics with many components, so we will keep the information simple here and provide you with your customized treatment plan in our office.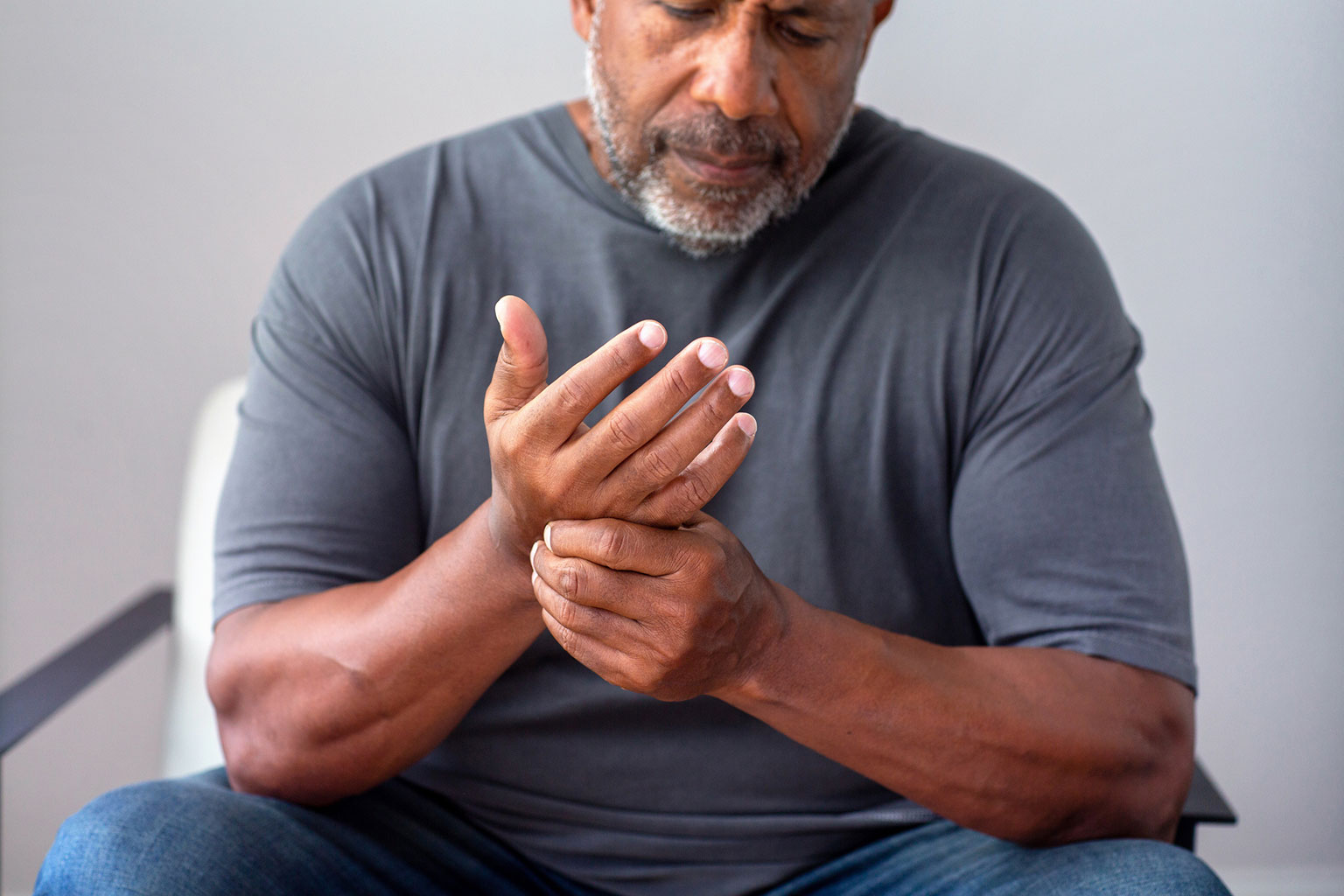 Trusted by Maine Health and Mercy Hospital for nearly 40 years, we are the most skilled surgical team that offers a comprehensive range of advanced procedures and treatments to address various nerve conditions.
Through an in-depth evaluation and physical examination (that may sometimes involve imaging and nerve tests), our Plastic + Hand team ensures you will have the most appropriate treatment plan for your nerve condition.
WHAT IS NERVE COMPRESSION?

Caused by genetic predisposition or overuse injuries, nerve compression can occur when there is pressure on nerves in the peripheral nervous system. It can cause pain, numbness, and tingling in the afflicted areas. It may also impact the ability to perform daily tasks. Nerve compression can lead to pinched nerves or nerve damage (neuropathy).

The Maine Hand Center at Plastic + Hand provides diagnosis and treatment for:

Carpal tunnel syndrome: Compressed median nerve in the wrist.
Ulnar nerve entrapment: Compressed ulnar nerve in the elbow (cubital tunnel syndrome) or wrist (Guyon's canal syndrome).
Pronator teres syndrome: Compressed median nerve in the elbow.
Radial tunnel syndrome: Pressure on the radial nerve in the elbow.

There are also more compression syndromes, including rare conditions, that our Plastic + Hand team treats.
WHAT IS NERVE TRAUMA?

Nerve trauma can include a bruised nerve, a cut nerve, a partially cut nerve, or a stretched nerve. Nerve trauma can happen from any form of hand trauma:

Sharp cuts (kitchen accidents are common, including cutting an avocado)
Vehicle accidents (bone fractures can often impale a sharp edge into the nerve)
Falls
Dog bites

The treatment for nerve trauma depends on the severity of it, determined by the Plastic + Hand surgeon.
HOW DO YOU DIAGNOSE NERVE INJURIES?

At the Maine Hand Center at Plastic + Hand, we start this process with a thorough evaluation to determine the correct diagnosis. This may involve imaging tests (i.e., X-rays, CT Scan, or MRI) or nerve tests (i.e., Electromyography (EMG) or Nerve Conduction Study (NCS). This in-depth evaluation helps determine the most appropriate treatment plan.
WHAT ARE TREATMENT OPTIONS FOR NERVE INJURIES?

Nerve treatment has a wide spectrum, and Plastic + Hand offers all stages.

For nerve compression syndromes:

We release the nerve specific to your condition. This includes successfully treating carpal tunnel syndrome through endoscopic carpal tunnel release, open carpal tunnel release, or extended carpal tunnel release for people who had a past surgery that failed over time. This also includes successfully treating cubital tunnel syndrome or Guyon's canal compression through ulnar nerve decompression and possibly transposition if required.

Sometimes, more advanced techniques are required, such as nerve transfers, nerve reconstructions, and microsurgical techniques. The surgeons at Plastic + Hand are fully trained in all cutting-edge nerve techniques and technologies.

Depending on the patient, we may also use nerve protectors or nerve connectors to maximize the procedure results, which prevent scar tissue from going around the nerve.

For traumatic nerve injuries:

At the Maine Hand Center at Plastic + Hand, all our surgeons are trained in microscopic surgery, making the repair of small nerves and blood vessels in the hand possible. This may include:

Simple nerve decompression
Nerve repairs
Nerve transfers
Nerve grafts

Depending on your specific diagnosis, your Plastic + Hand surgeon will discuss the most appropriate hand nerve surgery options. With training from some of the top medical centers in the U.S. (including Harvard, Yale, Stanford, UCSF, Mayo Clinic), Plastic + Hand surgeons have the depth of experience and skills necessary to perform your hand surgery safely and successfully in the comfort of our accredited outpatient Plastic + Hand Surgery Center located on-site here in Portland, Maine.

For nerve injuries that do not need surgery:

If the nerve is partially intact (not entirely cut) after hand trauma, sometimes occupational therapy can help optimize nerve recovery. That's why Plastic + Hand includes occupational therapists as important members of our team to provide treatment for patients with nerve injuries.
WHAT IS THE EXPECTED RECOVERY AFTER HAND NERVE SURGERY?

With such an extensive range of diagnoses and severity, this answer entirely depends on your situation.

Simple nerve release will have a faster recovery than a significant traumatic injury. Here are some general guidelines that may be helpful:

Nerve healing takes weeks to months.
Nerve regeneration takes months.

A cut nerve is a dead nerve. When reconnected, it grows about one inch per month. For example, if your nerve was cut about eight inches from the fingertips, recovery could take at least eight months.

Major trauma will likely also include rehabilitation, adding to the recovery time.

The patient's age and health will also impact the expected outcome of nerve treatment. At Plastic + Hand, we customize the treatment protocol to meet patients where they are.
HOW MUCH DOES NERVE TREATMENT COST?

You'll discuss your nerve treatment plan with your Plastic + Hand surgeon. During your initial consultation, your surgeon will evaluate your medical history, nerve compression or traumatic symptoms, and discuss the best nerve procedure for your diagnosis.

After this personalized consultation, our scheduling and pre-authorization team will work with you and your insurance company to ensure the procedure is covered and scheduled in a timely manner.
OUR PLASTIC + HAND SURGEONS ARE THE MOST TRUSTED TEAM FOR HAND NERVE SURGERY PROCEDURES AND TREATMENT OPTIONS IN MAINE
If you're considering hand surgery or non-surgical treatment for your nerve compression or nerve injury, our Plastic + Hand team has the most qualified hand surgeons in Maine. Not only have we successfully completed the most reconstructive procedures in the region, but our team is also the only plastic surgery team trusted by Maine Medical Center, Mercy Hospital, and Southern Maine Medical Center.
Plastic + Hand surgeons offer a comprehensive range of advanced procedures and treatments to address various hand conditions. Hand surgery procedures treat traumatic and post-injury problems, carpal tunnel, osteoarthritis, tendonitis, ganglion cysts, and congenital abnormalities.
In many cases, surgery is just the start of recovery, and intensive rehabilitation may be necessary to increase hand strength and function. That's why Plastic + Hand includes occupational therapists as important members of our team to provide treatment for patients with nerve injuries.
It's time to discover the results you seek, offered with the respect and compassion you deserve. The first step begins here.
Please have your doctor reach out to us to start the process today. They can fax your referral to our office at 207-879-1646 or call us at 207-775-3446 with questions.