Trigger Finger
While trigger finger symptoms often start gradually without a clear injury, trigger finger may also result from heavy or extensive hand use, notably pinching and grasping activities. In severe trigger finger, the digit locks and gets stuck in a bent position. In the worst cases, this digit can't be straightened without medical help.
Trigger finger treatment depends on many variables, including pain levels and digit function.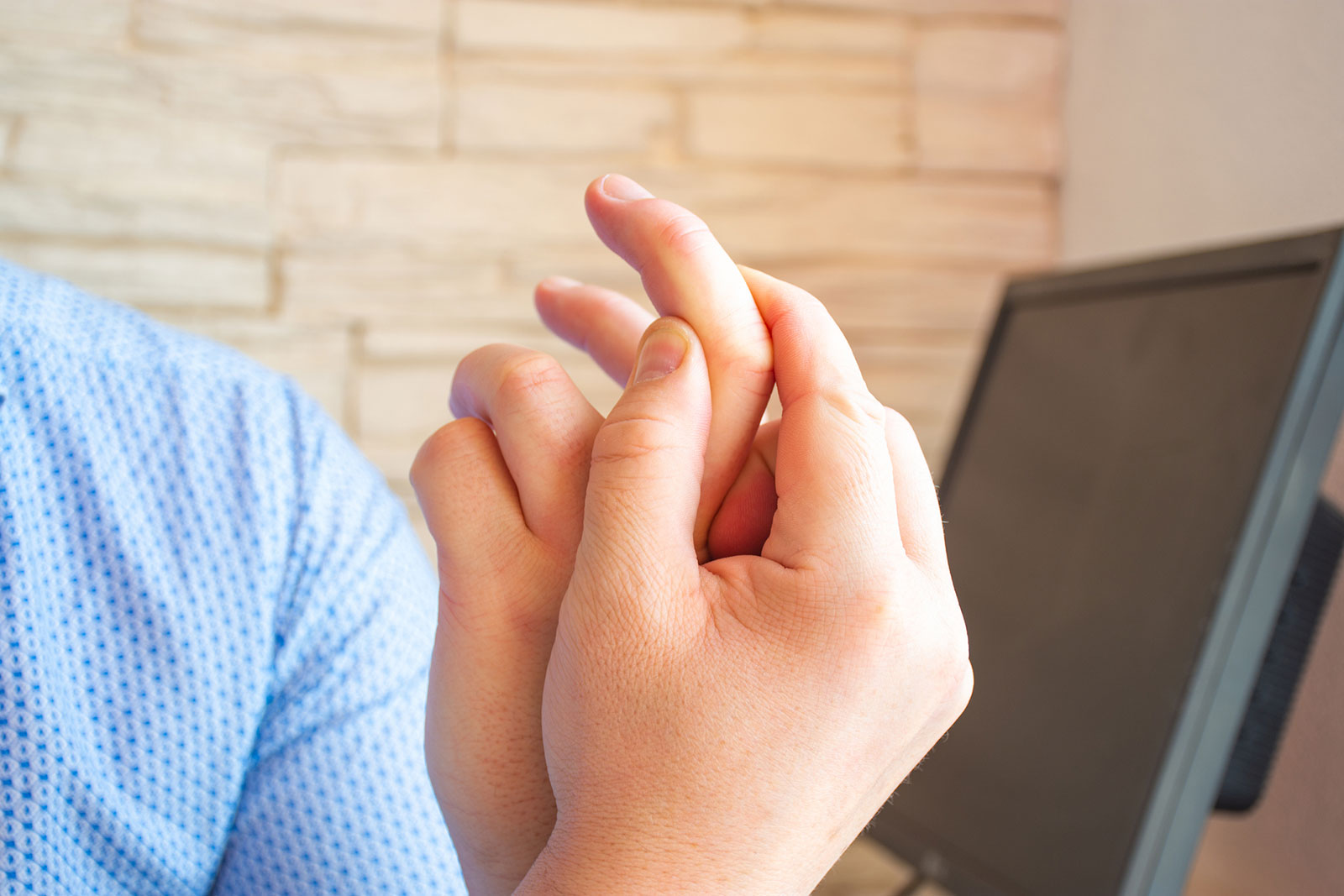 Plastic + Hand offers non-surgical and surgical treatment plans to best address your diagnosis and needs.
WHAT IS TRIGGER FINGER?

Trigger finger, also known as stenosing tenosynovitis, affects the tendons that flex the fingers and thumb. It often presents as a "locking" or "catching" sensation when bending and/or straightening the digits.

Along the tendon sheath, pulleys (bands of tissue) hold the flexor tendons closely to the finger bones with finger flexion and extension. The A1 pulley, located at the base of each digit where the digit meets the palm, is most often involved in trigger finger. In trigger finger, the A1 pulley gets inflamed and thickened, making it difficult for the flexor tendon to glide through it as the finger bends. The flexor tendon may also develop a small nodule on its surface that can further irritate the condition over time.

The most commonly affected digits are the ring finger and thumb (trigger thumb), but trigger finger can affect any digit. In severe trigger finger, the digit locks and gets stuck in a bent position, and people must manually correct it. In the worst cases, this digit can't be straightened without medical help.
WHAT ARE THE CAUSES OF TRIGGER FINGER?

While the causes of trigger finger are not well known, several factors may contribute to increased risk in developing this condition, including:

Medical conditions like diabetes and rheumatoid arthritis
Forceful use of the fingers and thumb
Older age

While it's rare in children, congenital trigger thumb can result in locked flexion of a child's thumb.
WHAT ARE THE SYMPTOMS OF TRIGGER FINGER?

Some common trigger finger symptoms include:

A tender lump on the palm side of the hand at the base of the finger or thumb
A popping, catching, or locking sensation with finger or thumb movement
Pain when straightening or bending the digit
Stiffness (and locking) that is worse after periods of inactivity but may improve throughout the day with gentle use of the hand.

Trigger finger symptoms often start gradually without a clear injury. However, trigger finger may result from heavy or extensive hand use, notably pinching and grasping activities.
HOW DO YOU DIAGNOSE TRIGGER FINGER?

At the Maine Hand Center at Plastic + Hand, we start this process by listening. We ask patients about their trigger finger symptoms and the concerns they are experiencing.

The surgeon will perform a thorough evaluation, first asking about your health and family history, followed by a hand and finger examination. This physical evaluation may look at several things:

Tenderness in the palm of your hand
Swelling and/or thickening of the tendon sheath at the base of your finger or thumb
Catching, locking, or clicking after you straighten or bend your digit(s)
Finger or thumb stiffness

This evaluation will help determine the most appropriate trigger finger treatment plan.
WHAT ARE YOUR TRIGGER FINGER TREATMENT OPTIONS?

What can you do for trigger finger, and what helps trigger finger? Plastic + Hand offers different options depending on where you are in this trigger finger progression and what the surgeon recommends as the most appropriate treatment.

These trigger finger treatment options may include:

Non-surgical treatment:

Often the initial treatment for trigger finger, these options vary:

Rest
Splinting
Over-the-counter medications: Acetaminophen and nonsteroidal anti-inflammatory drugs (NSAIDs) can help relieve pain and inflammation.
Exercises: Our occupational therapists are specialized in providing gentle stretching exercises that can help decrease stiffness and improve the range of motion in the involved digit.
Steroid shot injections: These may help ease the inflammation, and you might need repeated injections. While a corticosteroid injection may resolve the condition, the effectiveness of this injection varies from patient to patient.

If these non-surgical treatments do not work for you, or stop working as this condition progresses, your Plastic + Hand surgeon may recommend trigger finger surgery.

The need for surgery will depend on the amount of pain and lost function you have in your digit. For example, a stuck digit that cannot be straightened with gentle manipulation will likely need surgery to prevent permanent stiffness.
WHAT IS TRIGGER FINGER SURGERY?

Trigger finger release is the most common surgery for trigger finger.

During trigger finger surgery, your surgeon will first mark the surgical area, and you will be placed under local anesthesia, with just a shot of local anesthesia to numb the area for surgery. This is all done successfully in the comfort of our accredited outpatient Plastic + Hand Surgery Center located on-site here in Portland, Maine.

Your surgeon will make a small incision in the palm and release the A1 pulley responsible for blocking tendon movement. After release, the flexor tendon can glide more easily through the tendon sheath, eliminating the clicking/catching sensation.

The actual trigger finger surgery will take about 30 minutes. Patients typically have stitches and a band-aid on the surgical site, and most patients are encouraged to move their digit(s) after surgery. Immediately after the procedure, a friend or relative can drive you home.
WHAT TO EXPECT AFTER TRIGGER FINGER SURGERY

Patients often have normal and expected soreness in the palm after the procedure. Although the incision will heal within a few weeks, it may take between 4 to 6 months for swelling and stiffness in your hand/digits to go away completely.

Most patients have significantly improved function and reduced pain after surgery. However, if there was a loss of motion or a contracture (abnormal shortening or tightening of tissues) present before surgery, the complete range of motion may not be fully restored.

Depending on your post-surgery recovery, your surgeon may recommend follow-up care with our occupational therapists.
HOW MUCH DOES TRIGGER FINGER TREATMENT COST?

You'll discuss your trigger finger treatment plan with your Plastic + Hand surgeon. During your initial consultation, your surgeon will evaluate your medical history, your symptoms, and discuss the most appropriate treatments and procedures for your diagnosis.

After this personalized consultation, our scheduling and pre-authorization team will work with you and your insurance company to ensure the procedure is covered and scheduled in a timely manner.
OUR PLASTIC + HAND SURGEONS ARE THE MOST TRUSTED TEAM FOR HAND SURGERY PROCEDURES AND TRIGGER FINGER TREATMENT IN MAINE.
If you're considering hand surgery or non-surgical treatment for your trigger finger, our Plastic + Hand team has the most qualified hand surgeons in Maine. Not only have we successfully completed the most reconstructive procedures in the region, but our team is also the only plastic surgery team trusted by Maine Medical Center, Mercy Hospital, and Southern Maine Medical Center.
Plastic + Hand surgeons offer a comprehensive range of advanced procedures and treatments to address various hand conditions. Hand surgery procedures treat traumatic and post-injury problems, carpal tunnel, osteoarthritis, tendonitis, ganglion cysts, and congenital abnormalities.
In many cases, surgery is just the start of recovery, and intensive rehabilitation may be necessary to increase hand strength and function. That's why Plastic + Hand includes occupational therapists as important members of our team to provide treatment for patients with hand injuries.
Each and every patient is unique. It's important to us that we listen to our patients from the outset, so a phone consultation with our Patient Care Coordinator is the first step in determining whether trigger finger treatment is appropriate for you.
Schedule time to talk to us
It's time to discover the results you seek, offered with the respect and compassion you deserve. The first step begins here. Call us at 207-775-3446, or submit this request form, to schedule your consultation with our Patient Care Coordinator to determine whether trigger finger treatment is right for you.
Call us at 207-775-3446 to schedule a consult. Questions? Click here.