Facelift 101: Complete guide to rhytidectomy
If you're considering a facelift (rhytidectomy) or neck lift to tighten your skin, refresh your appearance, and boost your self-esteem, our Plastic + Hand team has the most qualified facelift and neck lift surgeons in Maine.
If you have questions before you book your consultation, this Facelift 101 Guide will cover everything you need to know about facelifts and neck lifts. We'll detail what candidates are right for surgery, the different types of facelift and neck lift procedures, recovery, and final expected results.
At Plastic + Hand, we're dedicated to making this the most informed and best possible experience for you, so let's get started.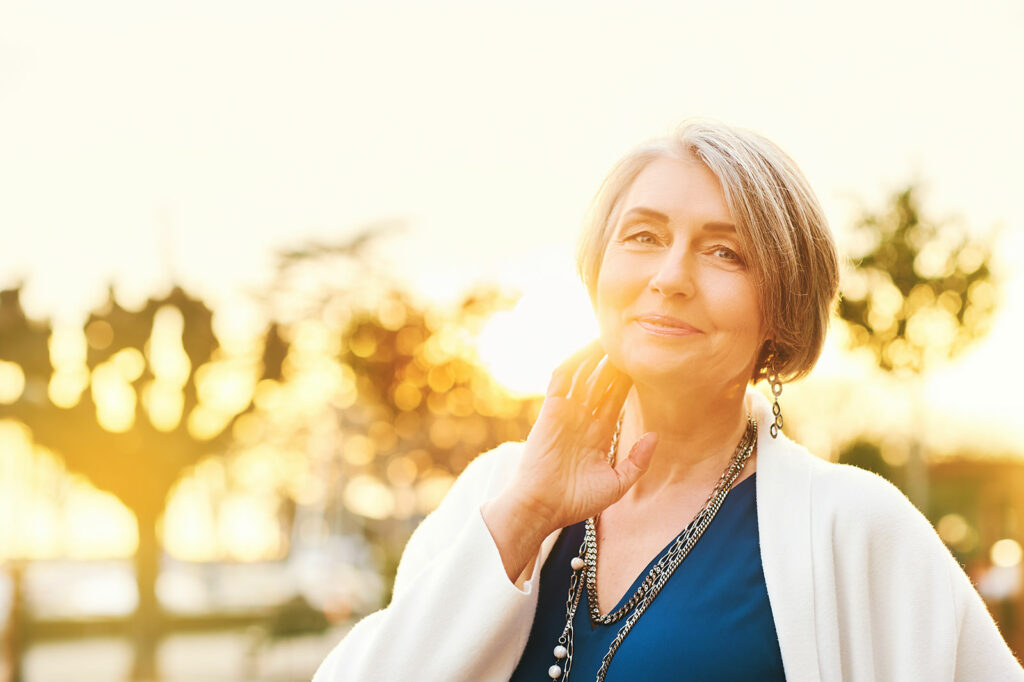 ---
How a facelift can help
Most healthy people over 40 years old who are dissatisfied with the appearance of their aging face (i.e., loss of elasticity and volume; sagging skin; drooping jowls) are candidates for a facelift. A facelift is most effective on people who have well-defined bones, and some elasticity to their skin. Definition can also be added to the face with structural fat grafting.
Some people often look to excessive fillers in attempts to restore the youthful volume and appearance of their face but can be disappointed in these unnatural-looking results.
Instead of trying to cover or "mask" problem areas, a facelift procedure is designed to help restore the natural youthful structure to your face by restoring the tissues back to where they should be. Paired with structural fat grafting, the youthful volume can be restored, too—all coming together in a beautiful and more natural-looking result. An in-depth consultation at Plastic + Hand will help you determine if a facelift is right for you.
What are the different facelift procedures?
There are many facelift "names" out there, including:
Traditional facelift (with or without a neck lift)
MACS Lift (Minimal Access Cranial Suspension)
SMAS (Superficial Muscular Aponeurotic System) facelift
Mini-facelift procedure (with limited incisions)
Neck lift
There's also terminology for a full facelift, lower facelift, and a mid-face lift, all which we outline in our Facelift Procedure Guide that we encourage you to check out.
While we do "all" these types, it's important to note that the facelift procedure is tailored to each specific patient.
The first step is to meet with your Plastic + Hand surgeon. During this consultation, you will discuss specifically where you would like to see improvement (i.e., jowls, neckline, neck banding, eyelids).
Facelifts are not a one-size-fits-all procedure. After speaking with you and depending on the degree of change you'd like to see, your surgeon will recommend the best customized procedure for your unique makeup and desired outcome. Your surgeon may also recommend structural fat grafting to restore fat loss from aging, as well as skin resurfacing for the best results.
Can a facelift restore volume to my face?
Facial fat loss is one of the hallmarks of aging, and this loss of volume can make you look older than you feel.
As a standalone procedure, a traditional facelift cannot restore your face volume.

That's why many facelift procedures include structural fat grafting to restore your face structure and bring youthful volume back into your face. You will discuss this more in-depth with your Plastic + Hand surgeon during your consultation.
Learn more about face volume, and why the power of injectables for restoring volume is misunderstood in our Facelifts and Face Volume Guide.
How a facelift works
With training from some of the top medical centers in the U.S. (including Harvard, Yale, Stanford, UCSF, Mayo Clinic), Plastic + Hand surgeons have the depth of experience and skills necessary to perform your facelift and/or neck lift safely and successfully in the comfort of our accredited outpatient Plastic + Hand Surgery Center located on-site here in Portland, Maine.
Before facelift surgery, you and your surgeon will review the procedure and expected outcomes. On surgery day, your surgeon will draw the decision guidelines on your face and/or neck, and you will be placed under general anesthesia.
During the facelift surgery, your surgeon will remove excess fat, tighten underlying muscles, and re-drape the skin of your face. While there are many facelift techniques, this surgery generally involves making an incision that is hidden in the natural contour of each ear, then extends around the earlobe and back into the hairline, minimizing visible scars. Through these incisions, your plastic surgeon separates the skin from the underlying tissues, pulls the skin up and back, removes the extra skin and fat, and tightens the muscles. Your surgeon will also reposition the deeper tissue for a more thorough lift, improving the jowl region.
If you have a neck lift in conjunction with your facelift, your surgeon will make a small, discreet incision underneath your chin. This incision allows your surgeon to remove extra fat and tighten the loose muscles in your neck.
The actual facelift surgery will take about 2 to 4 hours, depending on how many areas of the face are involved. You will recover in the recovery room where your progress will be monitored and most discomfort you'll feel can be controlled with medication. After a few hours, a friend or relative can drive you home. Your first post-op visit will be the very next day with your surgeon to ensure proper healing is occurring.
For more specific details about different facelift procedures, and 3-D surgery animation videos, please visit our Facelift Procedure Guide.
Facelift recovery
As with any surgery, there is short-term post-op recovery and longer-term healing.
Immediately after surgery, you'll receive specific post-op instructions, but here are some general recovery details:
Post-surgery, you'll have bandages on your face, and you'll be placed into a (surgeon-provided) face bra to provide support and comfort, manage swelling, and help your skin adapt to its new contour. You will likely have drainage tubes to reduce swelling (removed at your first post-op appointment) and your surgeon will advise on next steps for your sutures.
While your priority is rest, you should take short walks to promote good blood circulation. You will use two pillows at bedtime and keep your head elevated. You should also not bend forward from the waist during this time.
Swelling and bruising is expected and normal. It may take several weeks for the swelling to go down and up to six months for incision lines to fade. These lines can be concealed by your hair or with makeup.
Typically, you can resume most sedentary activities at 2 weeks and work your way up to your usual activity by 9 weeks, but please discuss specifics with your surgeon.
For a much deeper look into recovery, including critical sun protection, visit our Facelift Recovery Guide.
Final facelift results
Before surgery, your surgeon will help you visualize your facelift outcome and agreement on realistic post-op outcomes. If you'd like to see some facelift before and after photos, it's best to ask your surgeon during your consultation. This is the best opportunity to see (and discuss) the results that are specific to your upcoming procedure.
Shortly after surgery, you'll get a good sense of how your face will look, but swelling is expected and normal for several weeks. Because the healing process is gradual, you may not see the final result for up to three months. It may also take up to six months for incision lines to fade, which can easily be concealed by your hair or makeup in the meantime.
A facelift gives you a fresh and youthful appearance that you can enjoy for years. It's important to note that no facelift can stop your face from aging indefinitely. Once your skin loosens and sags again, you might want to adjust your look with a secondary facelift procedure.
A facelift is an important investment to protect. As part of your Plastic + Hand facelift procedure, you will receive a free consultation with our skincare practice, Skin Solutions. You will learn about the treatments, products, and regime that are specifically tailored to bring out the best in your skin and help protect your beautiful facelift results.
And, if you'd like to maintain your youthful look with injectables, our Plastic + Hand team has the most qualified experts in facial aesthetics in Maine.
How do I take the next steps for my facelift or neck lift surgery?
While there are many reasons to seek facelift and neck lift procedures (notably achieving a fresh, youthful appearance that you can enjoy for years), our leading facelift and neck lift surgeons in Portland, Maine, will work with you on realistic expectations prior to the surgery.
As part of the largest and most trusted plastic surgery center in Northern New England, our Plastic + Hand surgeons have successfully completed the most facelifts in the region.
We also want to take this moment and thank you for considering Plastic + Hand for your facelift or neck lift. Our work and our dedication is about you. We're committed to providing the results you seek with the respect and compassion you deserve.
It's time to discover the results you'll love.The first step begins here. Call us at 207-775-3446, or submit this request form, to schedule your consultation with our Patient Care Coordinator to determine whether a facelift or neck lift is right for you.